World Heritage Trail in Wismar
We're happy to announce that the World Heritage educational trail in the Hanseatic city of Wismar, northern Germany, has now opened. The trail joins two parts of the city with the aim of encouraging guests to leave their cars behind at the hotel and leisure complex and go into the old town on foot.
Wismar World Heritage nature trail – a total of six stations made of clinker bricks and stainless steel will inform the walkers about the world heritage. A special highlight on the path to the world cultural heritage of the Hanseatic city of Wismar is the "Magical View". At this point on the path there are two columns showing the church tower of St. Marien and the nave of St. Georgen. If the viewer is in the correct position, the two pillars magically merge into just one church.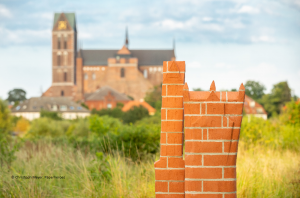 The conceptual work for the trail was funded from the DUNC project. The design, construction and construction of the information steles was carried out through donations from local actors, such as the DSK, Fruchtkontor Ballentin and the WONNEMAR Foundation. These are immortalized on the stations in the clinker stone. The project is a joint effort by the University of Wismar, Wismar artists, copywriters, a translator and employee of the Hanseatic City of Wismar.
More information (in German) about the Heritage Trail can be found here.

The Historic Centre of Wismar
With its Hanseatic atmosphere, Wismar is one of the most popular holiday destinations in northern Germany.
It became a UNESCO World Heritages Site in 2002 thanks to the well preserved historic part of the city from the Middle Ages and the port. The city stands out due to its magnificent brick gothic churches, which reflect the wealth of the city during its Hanseatic League membership. The city was severely damaged during the Second World War, but in 1990 the decision was made to restore some of Wismar's churches. Today, up to 2.5 million tourists visit Wismar every year. The city has a lot to offer, for example festivals like the Herring Days in March, the Harbour festival in June and the Swedish festival in August, which celebrates the 155 years that Wismar belonged to Sweden (1648-1803). To go to the theatre and cinema in one of the city's churches is another highlight.